Speakers
2022 SPEAKER INFORMATION COMING SOON.
2020 Virtual Speakers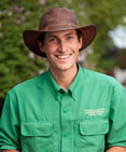 Jack Barnwell ~ Virtual Speaker
Barnwell Landscape and Garden Services
Garden Topics:
To be announced
facebook.com/barnwelllandscape
Jack Barnwell is an award winning garden designer, author, and owner of C3 Gardens of Southwest Florida as well as Barnwell Landscape and Garden based on the Michigan island of Mackinac. As owner of Barnwell Landscape and Garden Inc., Jack has over twenty years of experience creating breathtaking commercial and private garden displays on one of the world's premier summer vacation destinations.
Barnwell Landscape and Garden is responsible for the annual planting and maintenance of thousands of flats of flowers. They handle complete landscape installations, and specialize in innovative annual displays in garden beds, containers, and window boxes. Plants and materials are brought to the Island by boat and moved on location by horse and bike power because of the complete motor vehicle ban on Mackinac Island. Jack has customized his work for the Southwest Florida climate and market. C3 Gardens also maintains many of their clients' plantings by bicycle as they have found that this not only provides a more efficient means of transport, but decreases their impact on the environment.
Jack's work has been featured in many publications, including Landscape Management magazine. As a consultant for Proven Winners, Jack contributes to the design of beautiful gardens at commercial properties all over the United States.
At the end of a long day, Jack, his wife Karen, and their two sons enjoy watching the sunset, no matter which island they are on at the time…